A heritage in protein
At Solina we have decades of experience of imbuing food products with desired sensory properties. With a big focus on meat, Solina has grown into a leading provider for the savoury food industry with over 18,000 customers. Recognizing the value of our skillset to the plant-based protein industry, we have set up a sub-division with the mission to support developers of new protein foods: NEXTERA®by Solina.
We partner with food companies to apply our expertise in new protein foods to develop with our clients complete plant-based food concepts. In doing so, NEXTERA® by Solina's vision is to leverage the taste, functional and nutritional solutions of our parent company Solina to address the remaining sensory barriers to widespread consumption of plant-based food while placing a strong emphasis on responsible procurement and sustainable agriculture.
Customized guidance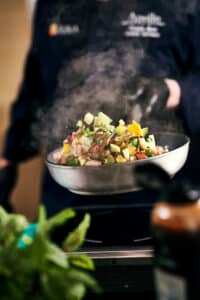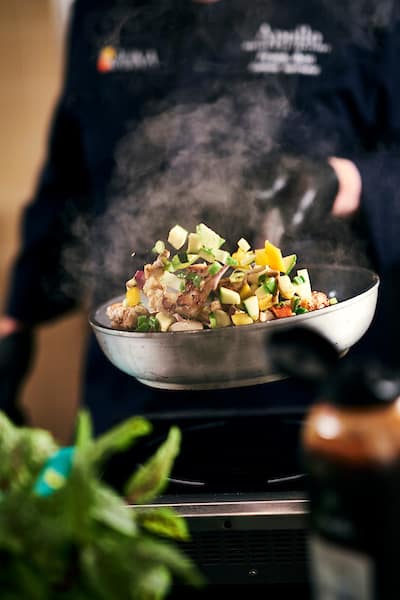 Our offer is built around core pillars that span the entire value chain. NEXTERA® by Solina uses its consumer and market understanding to propose new protein food concepts that resonate with the public.
Those concepts are translated into recipes by Solina's culinary chefs who work with experts in R&D, processing technology and nutrition to ensure products meet the needs of consumers and our clients and brands alike. We have installed a state-of-the-art research center with a pilot plant to give complete, independent and objective customized guidance on protein mixes, processing technologies and ingredient solutions.
A complete offer paired with heritage and expertise
With a portfolio that includes seasonings, sauces, marinades, coatings and any other taste solutions, we deploy our expertise in plant-based protein to create a wide range of product applications including burgers, stir fries, stews, pasta dishes, ready meals such as lasagna and breaded escallops and spreads and salads for sandwiches. Moreover, we posses of a culinary kitchen to house our team of experts.
All of these different capabilities are packaged into a complete offer that pairs Solina's protein heritage and expertise in taste, functional and nutritional ingredients to a comprehensive service level. Based on these elements and our customer-centric mindset, NEXTERA® is your flexible end-to-end solution partner in the creation of your next new protein food concept.
Advising on raw material (plant protein) selection, considering your preferences (taste profiles, nutritional benefits), supporting and advising on processing technology (dry/wet), incorporating additional taste solutions (seasonings, marinades, sauces, coatings etc.)… Our value proposition exist out of being present across the entire chain of developing a new protein food concept, depending on our clients' specific needs. Get in touch with our experts!