Meat manufacturers are tackling an increasing number of challenges. People are both consuming less meat and demanding more of the products they do buy. Price and taste, while still critical to buying decisions, are no longer the sole drivers of consumer behavior. Consumers also want their meat products to be natural, sustainable and healthy. Meat manufacturers need to cater to those consumer demands and continue delivering on price and taste to thrive in the market today.
The risk of inaction is clear. In Europe, 16% of people are actively trying to reduce their consumption of red meat.1 The figure rises to 27% in Italy and 18% in Germany. The targeted reductions in meat consumption will continue a multi-year shift. A separate survey found 48% of French people have cut their meat consumption over the past few years.2
Manufacturers are starting to feel the impact of the changes in consumer behavior. From 2010 to 2020, per capita meat consumption fell in the five biggest economies in the European Union.3 In Germany, per capita consumption fell from 68.9 kg a year in 2010 to 61.3 kg in 2020. Consumption also fell in France, Italy, Spain and the UK.
So far, rising meat consumption in other parts of the EU has offset the declines in major markets but the consumption of animal products in the region is forecast to peak by 2035.4 Sales growth has already slowed to a crawl, with the compound annual growth rate in Europe expected to come in below 1% between 2021 and 2025.5 At the start of the period, the market was valued at more than $360 billion (€307 billion).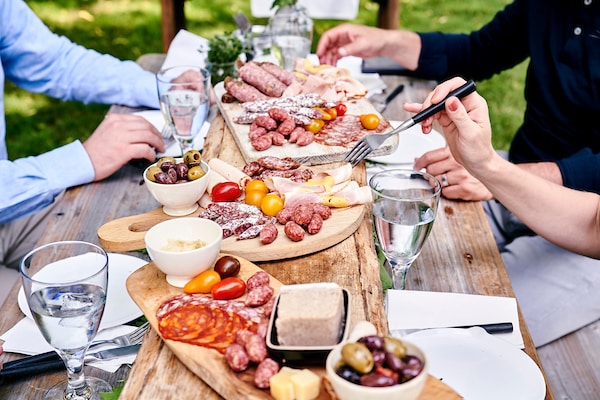 The pressures on the meat market are intensifying as consumers consider the far-reaching effects of their food buying decisions on their own wellbeing and the health of the planet. 55% of Europeans often or always factor the impact of a product on their health and wellbeing into buying decisions.1 A survey of people in the UK found health is the main reason people are trying to reduce their meat consumption.6
People have a range of concerns about the effects of food on their health. The use of e-numbers is one area of concern, as is reflected in a survey that found simple and short ingredient lists are very appealing to 39% of Europeans and somewhat appealing to a further 37% of people.1 The proportion of people who find short, simple ingredient lists very appealing is as high as 51% in some countries.
Naturalness is just one part of consumer perceptions of what makes a food healthy, though. People also look at factors such as the fat and salt content of a product. Almost one-third of Europeans are actively trying to cut their consumption of fat and salt.1 41% of people only consume fat and salt in moderation.
Consumer focus on fat and salt consumption has made the rating of foods on initiatives such as Nutri-Score in the EU, traffic light labelling in the UK and the Health Star Rating System in Australia important to the success of products. Brands and retailers now see the front-of-pack labels as a way to differentiate their products. 
The provenance, carbon footprint and broader environmental impact of food products are other key drivers of decisions about meat consumption.6 For 37% of Europeans, information about the country of origin or manufacture is central to their buying habits.1 Europeans view organic food products to be healthy and sustainable, creating a €38.8 billion market that is only second globally to the US.7,8
Meeting demands with customized solutions
The consumer trend data illustrates the diverse range of pressures faced by the meat industry. Meat manufacturers need to reassure consumers about the sustainability, quality, naturalness and health properties of their products, all without compromising on taste. Amid all the changes to consumer behavior, taste, food safety and cost have remained the top three purchasing criteria in Europe.9 Consumers' new demands are on top of, not in place of, a traditional focus on taste, safety and cost.
Those challenges are also big opportunities. Meat manufacturers can add value to their products and offset falling volumes by creating natural, sustainable and healthy foods that command a premium price.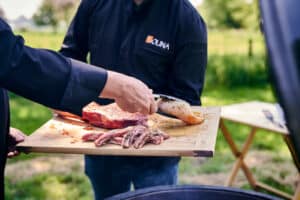 Solina is helping savoury food customers meet the growing list of consumer demands with custom solutions such as seasonings, marinades, brines, stocks and coatings that are adapted to the specific preferences of each market. The work is driven by food technologists and chefs, including a group of over 50 meat specialists in R&D and sales teams, who are creating natural, clear-label solutions that equip manufacturers to cater to new consumer demands without compromising on taste, nutrition and functionality. With a direct presence in 17 countries, counting 28 R&D centres and 27 production sites, Solina is guiding meat processing companies in their journey to better respond to a diverse set of challenges.
Because of its decentralized and 'glocal' setup, various teams are working with customers to address consumer demands in markets around the world. In Russia, Solina applied black tea extracts and other natural colorants, flavors and functional ingredients to enable a supplier of burgers to foodservice chains to eliminate e-numbers. Solina France proposed natural low-salt solutions for charcuterie applications, and the Danish subsidiary has launched organic marinades with core tastes for meat and poultry manufacturers.
Together, the activities show how Solina is working with meat manufacturers to address their main challenges and opportunities, influencing taste, functionality and nutrition, as well incorporating sustainability requirements and practices. Meat manufacturers that partner with Solina to access custom solutions stand to stay ahead in the fast-changing market, enabling them to grow even as consumer preferences evolve.
Home – GlobalData. https://www.globaldata.com/
Duboua-Lorsch, L. Almost half of French people have cut meat consumption in last three years. https://www.euractiv.com/section/agriculture-food/news/almost-half-of-french-people-have-cut-meat-consumption-in-last-three-years/
Per capita meat consumption 2010-2020 Statistic. https://www.statista.com/statistics/679528/per-capita-meat-consumption-european-union-eu/
Morach, B. et al. Food for thought: The protein transformation. Ind. Biotechnol. 17, 125–133 (2021).
Meat. https://www.statista.com/outlook/cmo/food/meat/europe/
Eating Better. https://www.eating-better.org/blog/growing-public-support-for-less-better-meat-public-survey-uk/
Southey, F. Europe boosts organic supply, but what about demand? 'Consumers dictate the food chain'. https://www.foodnavigator.com/Article/2021/04/15/Europe-boosts-organic-supply-but-what-about-demand-Consumers-dictate-the-food-chain/
What is the state of consumer trust in the European agrifood industry? https://www.eitfood.eu/blog/post/what-is-the-state-of-consumer-trust-in-the-european-agrifood-industry/
European Commission. Eurobarometer. https://europa.eu/eurobarometer/surveys/detail/2241/