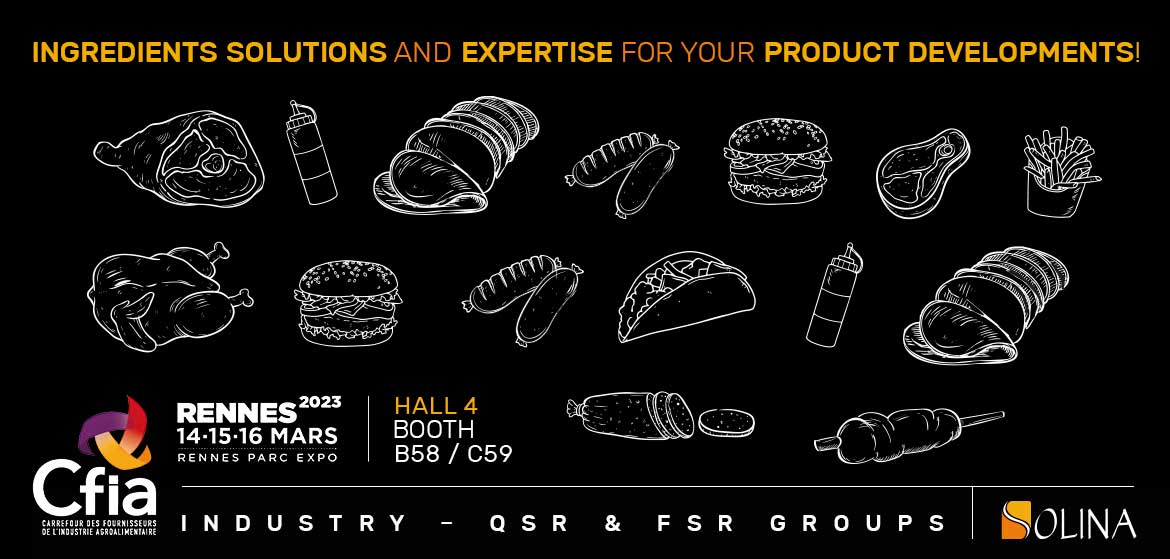 From 14th to 16th March 2023, the entire Solina team will welcome you to the CFIA stand! Are you looking for ingredient solutions and advice to optimize your developments? Do you want to offer your customers gourmet and trendy products, by improving the nutritional profile and the ingredient lists?
Come express your expectations and product requirements and enjoy a privileged moment around our menu concocted especially for the event! In addition, there will be an opportunity to discover the various options we offer: tailor-made sauces, seasonings, spices, functional ingredients, coatings and other solutions in order to create trendy products of tomorrow.
We will also share with you our comprehensive experience, which spans from ingredient supply, research and development, and legislation to technical guidance, product reimplementations and culinary inspiration.
Come say hi
Find us at Hall 4 – Stand B58-C59

We look forward to welcoming you there!
By working with Solina, a leading global partner for the food industry, companies can access the full suite of resources needed to meet changing consumer demands, from insights into local and global trends through to the spectrum of capabilities and expertise needed to deliver great-tasting products.