Nothing new under the sun
Granted, foreign influences have long been part of our culinary culture. The postwar guest workers introduced the Greek salad and gyros dishes; Swiss cheese fondue wafted into our regions in the 1960s and in 1976, the American Tomas Estes opened the Netherlands' first Mexican restaurant in Amsterdam.
So what is new, then? In recent years, the availability of exotic ingredients and dishes has grown exponentially from Colombian papaya to Arabian za'atar. All boundaries are becoming fluid – a blessing for the experimental chef.
Coronavirus as catalyst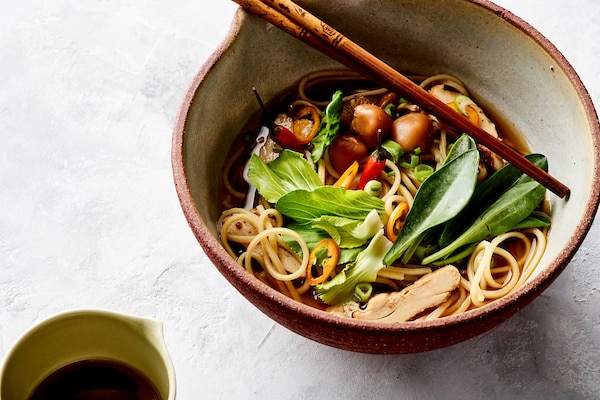 The coronavirus played a crucial role in the rise of foreign influences in the food services sector. Suddenly, everyone wanted to support local restaurants and businesses. The sense of community was at its height. But… we also love to travel. Although no one was able to cross borders, we were aching to do so. Professional chefs knew that all too well. They went ever more often in search of less familiar seasonings from other cultures and countries, and they are still doing so. Think of chili pepper, lemongrass and pomegranate – ingredients which you may already have started using yourself. This way, consumers can do a bit of armchair travelling.
Hyperdiversity in 4 dishes and/or ingredients
Because this phenomenon within the food services has spread so widely, it is difficult to identify a common thread. It is not solely the Middle East that is gaining in popularity or only vegetables or starters that are involved. To illustrate the hyperdiversity, we are happy to identify three notable leaders:
#1 Asian edamame
Asia is gradually showing revealing all. A recent discovery is its whole, immature soy beans – also known as edamame. You can find it in the Japanese, Korean, Chinese and Hawaiian cuisine. Its great advantage? Edamame beans are very nutritious and are therefore popular with consumers in search of international and healthy foods. A nice extra: you can prepare it as a snack, add it to salads or a poké bowl, and much more.
#2 Versatile bouillons
Solina's foodservice division succeeded in combining the complex and intense flavours of more than 15 ingredients in a series of versatile bouillons. Among the ingredients, there are many eastern influences such as coriander, ginger, lemongrass, star anise, chili and soy sauce. The result: Asian vegetable, miso and meat bouillons that will soon be an essential part of every professional kitchen. You can use them as a base, a flavour enhancer or to finish off just about any dish. Find out more.
#3 West African jollof
Jollof is the paella of West Africa. The rice is smoky, spicy and very aromatic. You cook it in a bouillon of tomatoes, onions, chili peppers, spices and other flavourings. It is the tomatoes, in fact, that give it the typical red colour to this exotic main dish. You can then add anything you like: from seafood and crispy chicken to goat's tail and extra vegetables. Every chef puts his or her own stamp on this classic rice dish in countries such as Senegal, Nigeria and Ghana.
#4 Peruvian ceviche
Ceviche is indissociable from raw whitefish. The superfresh fish is not cooked, but marinated in a mixture of lime and lemon juice and flavoured with herbs and spices. The acids in the juices and the proteins of the whitefish produce a chemical reaction which cooks the fish. You can adapt this summer dish with local ingredients, and it is a hit with both foodies and average Joe.
No more boundaries, no more rules
Afghan, Syrian, Georgian, Mongolian… we want to try it all. And now the proverbial boundaries are also disappearing, such as between food and drinks. Think of the use of espresso for rubs, or green tea in marinades. In short, everything is possible and permitted. Or what would you say to cheeseburgers with Vietnamese bánh mí and tacos with maple syrup?
Many chefs have called the culinary status quo into question with ingredients, cooking techniques and dishes from around the world. And no one dares to say it is not authentic. One thing is for sure the exotic influence will long continue to shape the flavours and aromas used by professional cooks.