Sustainability concerns amid consumers
Raise the bar for your plant-based product portfolio by leveraging our profound end-to-end industry expertise to surprise the market with innovative meat and fish-alternative breakthroughs. Using our profound market and consumer understanding, Solina has identified plant-based tuna as a compelling new product development opportunity. Consumers of fish and shellfish are concerned about the sustainability of the food they buy, leading 43% of new launches in the 12 months to November 2021 to carry Marine Stewardship Council or 'responsibly sourced' statements on their labels. Because of the absence of animal-based products, plant-based fish offers a way to make even stronger sustainability claims.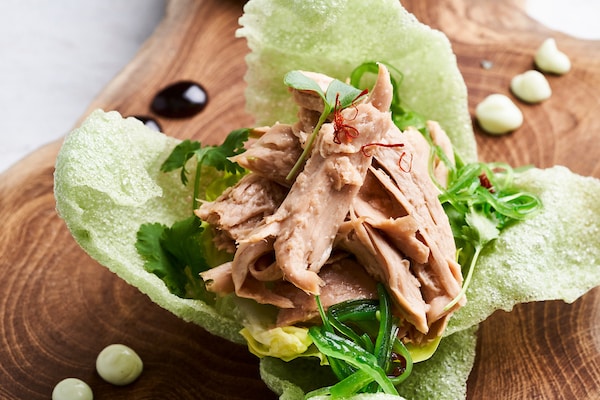 Consumers are increasingly interested in plant-based fish alternatives, with 60% of German meat substitute users expressing an openness to trying plant-based fish products. There are rewards for manufacturers that seize the opportunity. Notably, the opportunity presents a chance to improve profit margins because, while fish is more expensive than meat, the plant-based alternatives to fish and meat applications have very similar development costs.
multi-faceted challenge
The challenge is to mimic the colour and aroma of fish, which are lighter and more delicate than meat, while still countering the potential off-flavours of plant-based proteins. NEXTERA®, Solina's subsidiairy in new protein food, rose to this challenge to create a prototype vegan tuna using mainly pea and wheat proteins. From our range of technologies, we chose wet extrusion for the project because this technology allows us to achieve the optimal flaky, soft fish-bite. Having selected the technology, our research scientists and application technologists worked to create the perfect end application, meticulously fine tuning the taste, texture and appearance to match the fish gold standard as closely as possible. At the same time, the team watched closely to exclude and mitigate any unwanted interaction effects on texture or aroma that might arise during post-processing or heat treatment in the can.