PARTY FOOD
Consumers' eating habits have changed—and they want products that reflect these changes. Today, many dining occasions are more informal, with consumers putting out selections of finger foods to enjoy with friends rather than having traditional sit-down meals. Chicken, a protein that has remained popular even as consumption of other meats has fallen, is central to many of these informal eating occasions.
DELIVERING CRUNCH AND SUCCULENCE
Solina recognised the consumer demand for tasty, easy-to-prepare chicken products that are suitable for sharing, leading to work on a new wings concept. Working with our Bowman Ingredients subsidiary, we created a novel process for applying a crispy coating on chicken wings. The process takes place in a tumbler, eliminating the need for expensive coating lines, but still delivers the crunch consumers expect.
The chicken, which is brined for maximum succulence, is cooked at the manufacturer and at the home of the consumer prepared in an oven. The elimination of oil from the cooking process, avoiding the use of phosphates, combined with a naturally low sodium content creates a healthier product.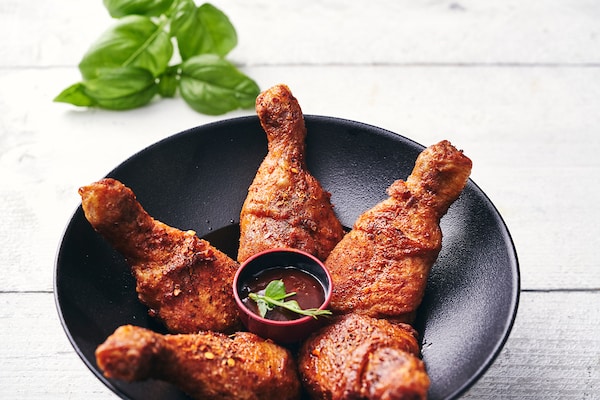 €32 billion
annual sales of poultry meat in Europe
Poultry has remained popular even as consumers have turned away from red meat such as beef.
Source: AVEC
BRINGING THE FLAVOUR
Solina enhanced the natural flavour of the wings with a chicken booster, providing a starting point for customisation of the taste profile. We added a bacon ingredient to the wings concept to provide a meaty, smoky flavour but that is just one of a range of options. By adding different flavours, the concept can be easily adapted to support a full range of chicken wing products tailored to the tastes of different buyers.
Solving your challenges
Let's co-create the food of tomorrow
Discover other inspirational concepts
Solina has showcased the power of our capabilities with advanced concepts that address the biggest trends in savoury foods.