MEETING CONSUMER DEMANDS
Chicken nuggets are a cornerstone of the quick service restaurant (QSR) industry, featuring in the top 10 best-selling items at McDonald's and being a staple of many family visits to fast food outlets. Nuggets' importance to the QSR experience means there is a major opportunity for plant-based versions, but also creates a high bar for success. Consumers know what they want from a nugget.  
Solina knows how to meet those desires. With our subdivision in new protein food, NEXTERA®, and long history in the meat industry, we understand what makes the ideal nugget and have the culinary creativity and technical excellence to create the perfect plant-based version. 
HARNESSING OUR MEAT HERITAGE
We applied a fibrillation (powerheater extrusion) technology to produce 'strips' made from soy, wheat and free-range egg proteins. Harnessing our meat heritage, we turned the strips into a dough that is suitable for shaping into characteristic nugget shapes with a very succulent, chicken-like fibrous bite.  
The rest of the crispy vegetarian nugget concept is testament to the breadth of Solina's capabilities. We used a natural chicken aroma to flavour the nuggets and worked with our coating specialist, Bowman Ingredients, to create the colour and crunch that is critical to consumers' first impressions.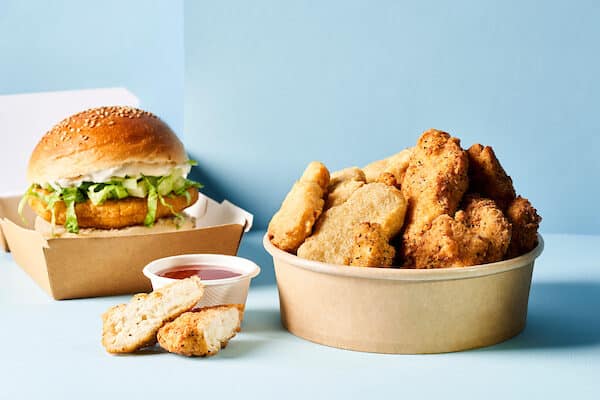 72%
the proportion of buyers of new protein QSR foods who identify as meat eaters
The interest of omnivores in new protein foods means QSRs need convincing, meat-like products to fully seize the plant-based opportunity.
Source: Piplsay
TAILORING THE NUTRI-SCORE
The crispy vegetarian nugget concept has a B-level Nutri-Score, reflecting the fact it is high in protein and low in saturated fat. That is just a suggestion, though. As with everything at Solina, the Nutri-Score can be tailored to each customer. If a Nutri-Score of A was needed, our team could meet the request by increasing the fibre and reducing the salt.
Solving your challenges
Let's co-create the food of tomorrow
Discover other inspirational concepts
Solina has showcased the power of our capabilities with advanced concepts that address the biggest trends in savoury foods.