MAKING QUICK SERVICE FOOD MATTER 
A quick bite that's nutritious, delicious, environmentally conscious and lots of other things that end with ious. Consumers have set the bar high for quick service restaurants (QSR). Oh, and it should be affordable as well. Pressure on? Team up with Solina to deliver on all aspects. 
Tailored food solutions for QSR chains
Leveraging decades of in-house expertise and engaging directly with organisations in the quick service restaurant market, Solina masters in tailored ingredient solutions. These can take various forms: 
SAUCES
A famous proverb goes 'Hunger is the best sauce'. Well, it's not. A sauce that speaks to the mind and soul is the best sauce. And we can help you achieve that. Moreover, we focus on important secondary aspects, such as shelf life and flexible packaging. Learn more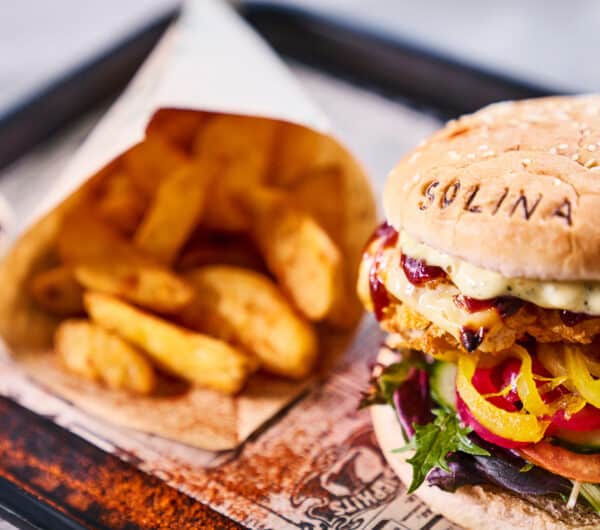 COATINGS
No second chance to make a first impression. That goes for food as well. So, give your meat, poultry, fish, seafood, potato and vegetable products both a crispy look and crunchy taste to truly impress. Inside info: we have a dedicated expert team specialised in coatings for meat, fish and potato applications. Learn more
FUNCTIONAL SOLUTIONS
These solutions consist of perfectly balancing the stability, emulsion and texture of particular food solutions for the QSR market. As these elements are intertwined, they need to be spot on to create the desired mouthfeel of meat and plant-based patties. Learn more
THE PLANT-BASED FUTURE OF QSR
New protein food is high in demand. We help you in persuading the growing group of vegans, vegetarians and flexitarians to make your QSR chain top of mind with sensory optimisation. Good to know: besides our plant protein solutions for meat and fish alternatives, we can offer any of our ingredient solutions in vegetarian and vegan options. Learn more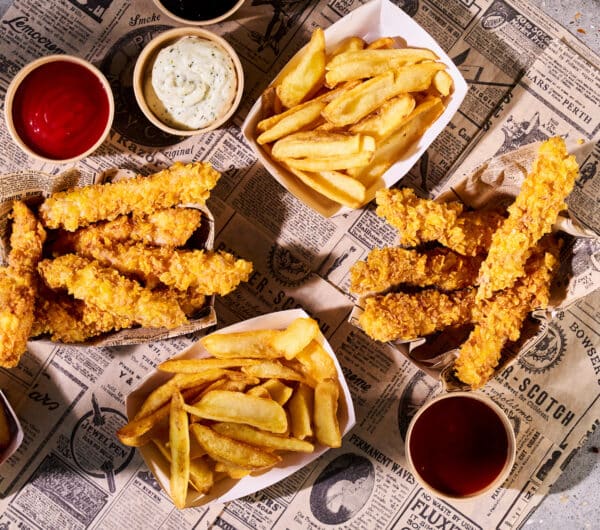 BECOMING PARTNERS
Ready to make your QSR chain a trendsetter?
Sustainable choices 
Every department at Solina is dedicated to making food matter for people and the planet. Our QSR team is no exception. With our extensive portfolio of plant-based, natural and better-for-you options, you easily adapt to the wishes of conscious consumers. 
Authentic, on-trend taste 
No taste, no smile. It's as simple as that. That's why we have a team of experienced chefs who translate global and local market insights into tailored marinades, sauces, seasonings and more. These give your food an authentic, on-trend taste. 
Enhanced nutrition 
We specialise in improving the nutritional properties of popular QSR food. Examples include lowering the salt and fat in burgers or hot dogs, and enriching food with proteins and fibres. The result: excellent nutritional scores, while retaining the desired mouthfeel. 
End-to-end services 
Contact us for all things QSR. Ingredient sourcing, R&D, regulatory advice, technical assistance, culinary inspiration … You name it. We know the challenges you and your food suppliers are dealing with and pull out all the stops to help you overcome them. All to create the food of the future. 
Inspirational concepts for quick service restaurants
Not sure exactly what YOU could do with OUR help? Get inspired by these inspirational concepts:
Other savoury food
Our services for quick service restaurants benefit from a long heritage in other savoury foods. Browse these pages to get to know us better.
DISCOVER MORE
Health drivers to transform the fast-food industry
Learn More >