Delivering Flavour
Solina turns mixtures of vegetables into meals. Few people like to eat a bowl of unadorned salad leaves and chopped vegetables. Yet, the addition of a dressing and other taste enhancers elevate the individual elements to create a mouthwatering meal.
Leveraging our culinary heritage, we develop dressings, seasonings, sauces and culinary pastes that bring new and classic flavours to vegetable-based dishes. Whether working with a salad bowl or meal kit, Solina helps customers to make complete, flavour-packed meals from vegetables.
Our Value Proposition
Taste
We know how to make vegetables taste great. From developing a dressing that enhances salad leaves, to creating a spiced tomato paste for a meal kit lasagne, Solina's chefs and flavourists help vegetable cutters bring flavour to their raw materials.
Packaging
Solina is flexible and collaborative in our approach to packaging, working with customers to find out if a sachet, cup or other receptacle is the best tool for the job. We then have the scale to deliver the required volumes, with our facility in Nieuw-Vennep (The Netherlands) having seven lines for sachets alone.
Agility
The agility of our packaging operation is echoed in our approach to customer service. We react rapidly to customer needs, for example by quickly providing the samples they need to inform the next steps for a planned product.
Service
Solina works closely with vegetable customers to ensure our solutions fit in with your operation. The product is just one part of a broader package designed to maximise your chances of success.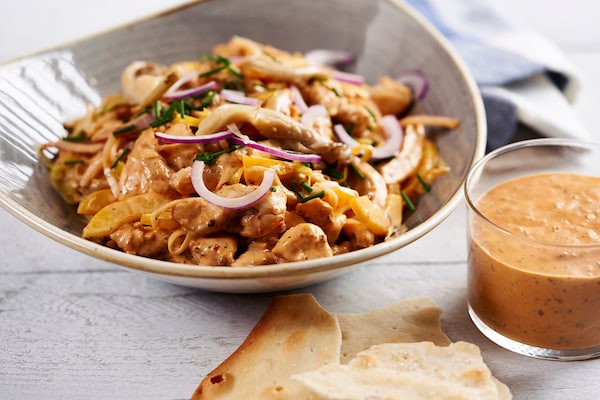 Inspirational Concepts For Vegetables
Our integrated solutions to create market-leading food products is exemplified by our inspirational concepts.
Other savoury food
We love to experiment, push the boundaries and bring a spark of creativity to all sorts of savoury food.
DISCOVER MORE
Exotic ingredients to bless the experimental chef
Learn More >