Catering To Globalised Tastes
Europeans have increasingly globalised palates. Many people have tried different foods when abroad and want to incorporate aspects of those flavours into their diets at home. Other people look to food to enable their taste buds to travel to countries they have never visited. To serve those populations, the food industry needs to deliver authentic, healthy meals adapted to local taste preferences.
Solina responded to the demand by conceiving a Thai chicken concept. We developed the application by using our clear-label texturising capabilities to create juicy pieces of chicken and leveraging our expertise in sauces to formulate a dry base for a Thai red curry sauce. Recognising differences between Thai and European palates, we dialled down the level of spiciness to deliver a product that remained true to the authentic taste profile while being more palatable to the typical Western consumer.
Reducing Sodium Content
The dry base was designed to be easy for the manufacturer to process and incorporate, and to deliver a product that bettered the nutritional profile of similar ready meals. We applied Saltwell, a low-sodium alternative to salt extracted from an underground sea in Chile, to create a ready meal that contained 33% less sodium than a set of benchmark products sold in Belgium, the Netherlands and the UK.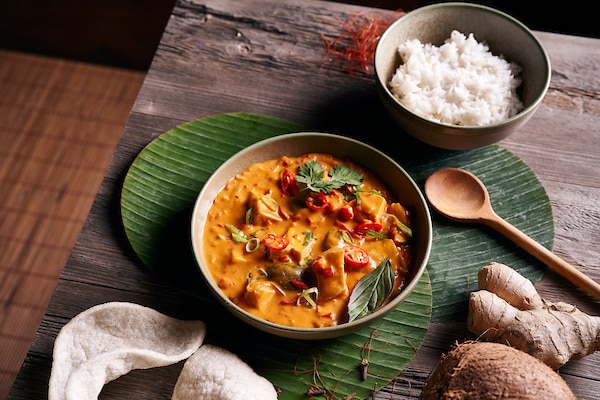 45%
of British holidaymakers go abroad just for the food
Many consumers put food at the heart of their travel plans and eat more adventurously while away. Upon returning home, consumers seek out versions of the dishes they tried on holiday, creating an opportunity for ready meal developers.
Source: Travelzoo
Ensuring Juicy Chicken
Solina recognised that the texture of the pieces of poultry was critical to the success of the Thai chicken concept. The poultry meat needed to be juicy with a pleasing texture that was neither too hard nor too soft. Solina applied its expertise in brining to the challenge.
By tumbling the chicken in a salt solution, we optimised the texture, yield and cost while delivering a clear label. Solina applied its deep knowledge of the specific preferences of different populations and technical expertise to fine tune the texture, making the chicken pieces a little drier or a little juicer depending on the target market.
Solving your challenges
Let's co-create the food of tomorrow
Discover other inspirational concepts
Solina has showcased the power of our capabilities with advanced concepts that address the biggest trends in savoury foods.