Catering To The Street Food Boom
Street food is booming. In the UK, the sector is outgrowing the wider fast-food industry and the demand is leading more traditional establishments to add street food-inspired dishes to their menus and inventories. As street food-style dishes become mainstream, consumers will increasingly expect them to provide more than just a tasty bite. Other major trends such as clear label and healthy eating will collide with the rise of street foods.
Hotdogs sit at the intersection of those trends. Solina developed three versions of the product: a chicken version for Halal consumers, a plant-based, soy-free version for flexitarians, vegetarians and vegans, and a pork version for everyone else. The three versions of the hotdog all excel by having clear labels and optimized Nutri-Scores.
Optimizing Nutri-Scores
The optimization of the nutritional profiles of the hotdogs raised the Nutri-Scores and supported claims such as source of protein and source of fiber. We optimized Nutri-Scores through actions including the reduction of sodium, resulting in products that achieved a B or C score and improved on the benchmark set by other hotdog concepts.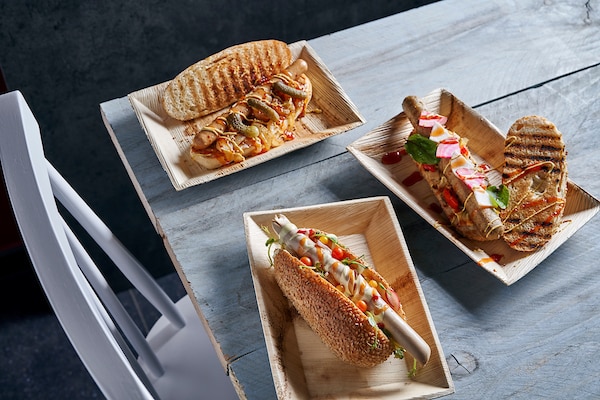 $17B
The forecast value of the 2024 fast-casual dining market in Europe
Value, taste and quality have attracted Europeans to street food-inspired products and provided momentum to the fast-casual dining market.
Source: Research and Markets
Creating And Enhancing Taste Profiles
Solina addressed the taste profile of the hotdogs from two angles. A spice paste was used to add flavors to the products. Rather than using processed spices, Solina worked with whole herbs and spices such as ginger root, bell peppers and chili to create a kitchen-like, low-processed pure taste solution. The flavors provided by the spice paste were then dialed up using Sign'Nature taste boosters.
SOLVING YOUR CHALLENGES
Have a challenge? Let's work together to find a solution.
Discover other inspirational concepts
Solina has showcased the power of our capabilities with advanced concepts that address the biggest trends in savoury foods.